Technical Details
This Trojan is written in Assembler, and is not packed in any way. The file is 8,192 bytes in size.
If the Trojan is launched from a directory other than %Windir%, the following error message will be displayed:

Once launched, the Trojan copies itself to the Windows system directory as "pic.exe":
%Windir%pic.exe
It then adds the string pic.exe to the load key in win.in:
load=pic.exe
The Trojan then creates 1500 folders in the Windows directory with names composed of zeros, ones, twos, threes, fours and fives.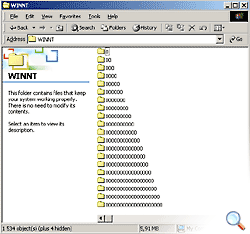 The Trojan contains the following strings:
Macur-Copyright 1998-1999. 17 Apr 1999, ***im@duck.odessa.ua, ICQ# **216706
Removal instructions
Delete the original Trojan file (the location will depend on how the program originally penetrated the victim machine).
Delete the file created by the Trojan:

%Windir%pic.exe

Delete the following string from win.ini (only for Windows 95/98/Me):

load=pic.exe

Delete all folders created by the Trojan.
Update your antivirus databases and perform a full scan of the computer (download a trial version of Kaspersky Anti-Virus).