Self-spreading malware of this family can perform the following actions without the user's knowledge:
Run commands received from a command-and-control server.
Make premium-rate phone calls via IP telephony.
Attack other IP addresses on the network.
Filter SMS messages.
These malicious programs spread independently by sending phishing SMS messages to the user's entire contact list, with a link to the malware executable file.
Geographical distribution of attacks by the Worm.AndroidOS.Posms family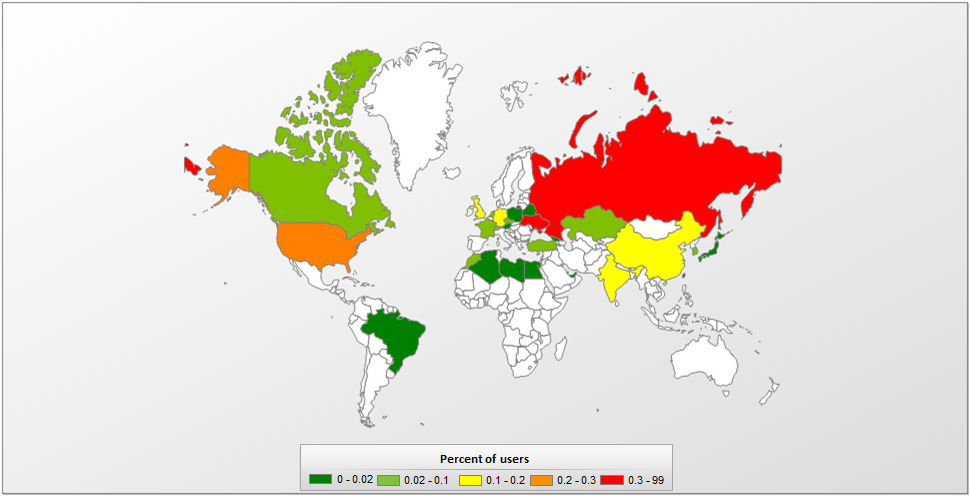 Geographical distribution of attacks during the period from 31 July 2014 to 3 August 2015
Top 10 countries with most attacked users (% of total attacks)
| | | |
| --- | --- | --- |
| | Country | % of users attacked worldwide* |
| 1 | Russia | 98.04 |
| 2 | Ukraine | 0.33 |
| 3 | USA | 0.24 |
| 4 | India | 0.18 |
| 5 | United Kingdom | 0.18 |
| 6 | China | 0.15 |
| 7 | Germany | 0.15 |
| 8 | France | 0.09 |
| 9 | Turkey | 0.09 |
| 10 | Canada | 0.06 |
* Percentage among all unique Kaspersky users worldwide who were attacked by this malware