Technical Details
This Trojan is a Windows PE EXE file. It is approximately 245KB in size (the file size may vary slightly). It is written in Borland Delphi.
Payload
Once launched, the Trojan will cause a message to be displayed information the user that s/he has to assemble the puzzle composed of squares on the screen by moving the pieces using the cursor keys:

Once the user clicks on OK, the Trojan splits the Windows desktop into 11 square pieces, and jumbles them up:
Once this has been done, it will be impossible to use any Windows applications.
The user can move the pieces using the arrow keys. Once the user has placed the pieces in the correct order, a message containing information about the Trojan and its author will be displayed: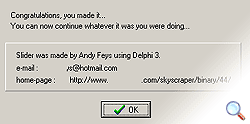 Removal instructions
Terminate the Trojan activity by pressing Alt+F4.
Delete the original Trojan file (the location will depend on how the program originally penetrated the victim machine).
Update your antivirus databases and perform a full scan of the computer (download a trial version of Kaspersky Anti-Virus).