Technical Details
This Trojan is designed to steal user passwords. It is a Windows PE EXE file. It is 18,944 bytes in size.
Payload
When launched, the Trojan displays the following dialogue box: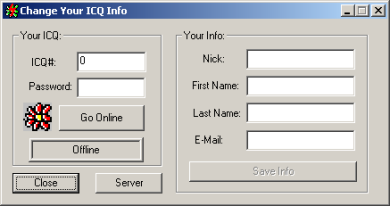 The user is requested to check and change his/ her ICQ account details.
When the user clicks "Go Online", the Trojan will send the data entered in the "ICQ#" and "Password" fields to the remote malicious user's site.
Removal instructions
If your computer does not have an up-to-date antivirus, or does not have an antivirus solution at all, follow the instructions below to delete the malicious program:
Delete the original Trojan file (the location will depend on how the program originally penetrated the victim machine).
Update your antivirus databases and perform a full scan of the computer (download a trial version of Kaspersky Anti-Virus).