Malware of this family monitors the applications that are running on a device. When a banking application is detected, for example, it is covered by a fraudulent window that displays HTML code received from a command server. In most cases, the window asks the user to enter bank card details.
In addition, the Trojan has the following additional capabilities:
Intercept and spoof SMS messages.
Obtain GPS coordinates.
Intercept calls.
Geographical distribution of attacks by the Trojan-Banker.AndroidOS.Acecard family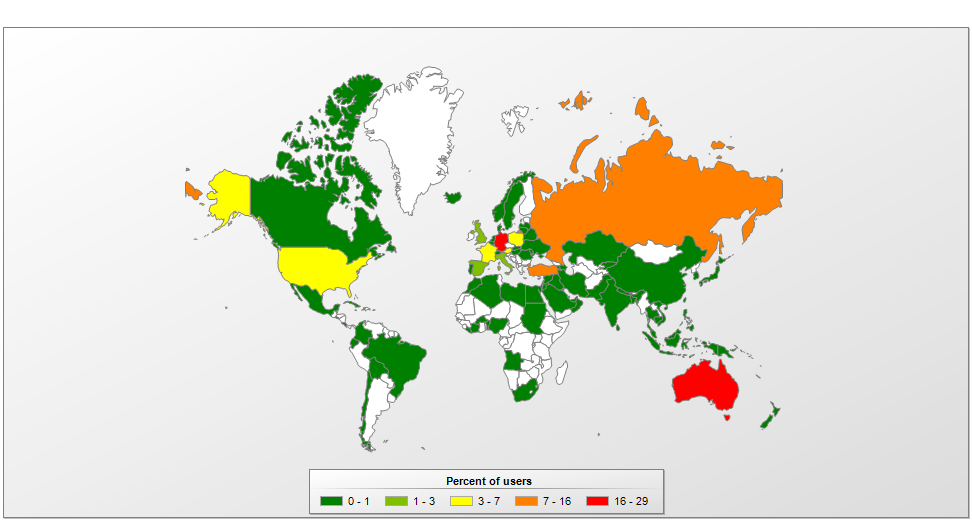 Geographical distribution of attacks during the period from 28 June 2015 to 28 June 2016
Top 10 countries with most attacked users (% of total attacks)
| | | |
| --- | --- | --- |
| | Country | % of users attacked worldwide* |
| 1 | Germany | 28.36 |
| 2 | Australia | 17.23 |
| 3 | Russian Federation | 14.81 |
| 4 | Turkey | 8.11 |
| 5 | Poland | 5.72 |
| 6 | USA | 4.54 |
| 7 | Austria | 2.88 |
| 8 | France | 2.84 |
| 9 | United Kingdom | 2.18 |
| 10 | Spain | 1.56 |
* Percentage among all unique Kaspersky users worldwide attacked by this malware