Malware in this family was first identified in July 2014. Backdoor.Win32.Konus is a banking Trojan used to steal personal data from various online services.
The malware has the following main capabilities:
• Spoofing web page content in popular browsers (Chrome, Internet Explorer, Firefox, Edge, and others)
• Stealing data entered in web forms
• Downloading and running other malware
• Hiding malware-related files and processes
The malware is similar in its functionality to another common family, Trojan-Spy.Win32.Zbot, and uses a compatible configuration file with web injects.
Geographical distribution of attacks by the Backdoor.Win32.Konus family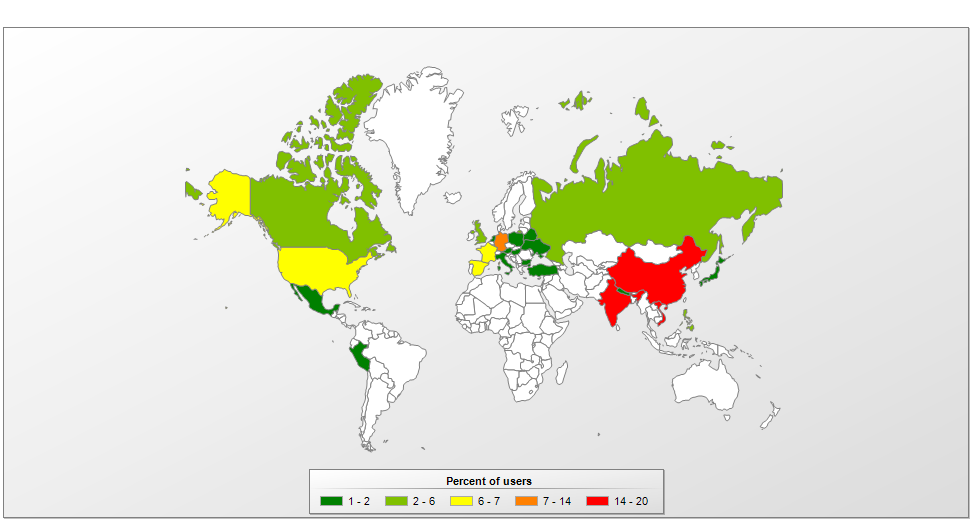 Geographical distribution of attacks during the period from 16 May 2015 to 16 May 2016
Top 10 countries with most attacked users (% of total attacks)
| | | |
| --- | --- | --- |
| | Country | % of users attacked worldwide* |
| 1 | Vietnam | 19.54 |
| 2 | China | 14.94 |
| 3 | India | 14.94 |
| 4 | Germany | 9.20 |
| 5 | France | 5.75 |
| 6 | Spain | 5.75 |
| 7 | USA | 5.75 |
| 8 | Canada | 2.30 |
| 9 | Philippines | 2.30 |
| 10 | Russian Federation | 2.30 |
* Percentage among all unique Kaspersky users worldwide attacked by this malware